Smoky Mountain wedding venues are not in short supply in the Pigeon Forge and Gatlinburg area. If you're brave enough to plan an outdoor wedding, you have plenty of options to choose from. Check out some of these popular mountain wedding venues below.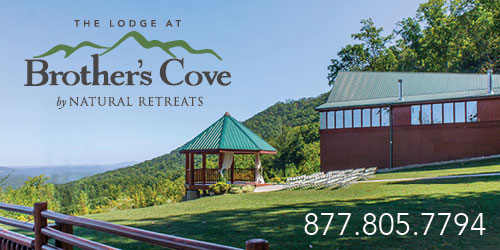 The Lodge at Brother's Cove
2930 Brothers Way, Sevierville, TN 37862
Located in Pigeon Forge, TN, The Lodge at Brother's Cove is the perfect place to say, "I do" in the Smoky Mountains. Set against stunning mountain panoramas, The Lodge is a premier wedding venue situated on the 450-acre Brother's Cove Resort. Its location is ideal for bot... [Business Info]
Moose Hollow Lodge
2610 Waldens Creek Road, Sevierville, TN 37862
Moose Hollow Lodge offers the finest Smoky Mountain Lodge large group cabin rentals in Tennessee. Bring all of your guests to Moose Hollow Lodge for your cabin wedding, family reunion, or church retreat. Located just minutes from local dining and attractions in Pigeon Forge, Gatl... [Business Info]
RiverStone Resort
212 Dollywood Lane, Pigeon Forge, TN 37863
Riverstone Resort and Spa is a breathtaking wedding venue in Pigeon Forge, Tennessee! The resort offers stunning views, luxurious accommodations, and top-notch amenities to make your day unforgettable. Plus, the serene surroundings will create a beautiful backdrop for your ceremo... [Business Info]
Titanic Museum
On the Pigeon Forge parkway you can get married at the Titanic Museum. They offer multiple indoor packages on the grand staircase, but you can also say I Do next to the outdoor fountain at the front of the ship. An ordained Titanic captain will even perform the ceremony!
Wedding Packages
Gatlinburg SkyPark
Did you know you can ride the Gatlinburg SkyLift up to your wedding ceremony? The package includes photos on the SkyBridge and a personalized copy of your wedding vows. You can also have an outdoor ceremony at an arched bridge or a gazebo or even outside the historic Gatlinburg Inn.
Gatlinburg SkyPark
Anakeesta
Anakeesta is full of amazing mountain wedding venues on its vast grounds. Say your vows in front of the heart twigloo, atop the AnaVista Tower, in front of the overlook at the botanical gardens, or even inside Black Bear Village. The scenery doesn't get much better than the Great Smoky Mountains National Park directly in the background.
Anakeesta
Outdoor Smoky Mountain weddings offer so many options–and challenges–for food and drink. Your wedding is about your love for each other and the exchanging of vows. However, your guests are also excited about food, drink, cake, and good times. People want satisfying food; fancier isn't always better. A common mistake is that people try to do too much, and it sometimes falls flat. Your friends and family simply want to celebrate with you, so don't be afraid to do barbecued or grilled fare. If budget and workload are concerns, get everyone included in the food preparation. PigeonForge.com puts you in touch with all the right planning, ideas, and inspiration.
Outdoor Wedding Ideas in the Smoky Mountain Area:
For the couple who likes to hike, just a small gathering by your favorite waterfall might be all you're looking for.
A natural clearing in the forest under tall hardwood trees makes a fabulous green canopy overhead during spring and summer, and breathtaking golds and reds and russets in autumn. There are wedding services that will perform weddings at an outdoor location of your choice, such as by a mountain stream or a natural waterfall in the Great Smoky Mountains National Park.
Are you looking for something more intimate? Just the two of you? Ceremonies can be performed by a minister who travels to your hotel or cabin. Nowadays, a popular trend is to get married in your honeymoon cabin or chalet, which offers privacy and incomparable mountain settings.
Many wedding vendors in the Smoky Mountain region offer beautifully landscaped Garden Weddings which feature rustic gazebos and barns in a natural setting for a custom, romantic outdoor experience.
The biggest advantage to an outdoor Smoky Mountain wedding is the absolutely gorgeous and scenic locations available in the Great Smoky Mountain National Park. Park Restrictions currently require special permits.
Also, there is a beautiful gazebo in the heart of Pigeon Forge at Patriot Park. Contact the proper City of Pigeon Forge officials for information about the use of Patriot Park.
Mountain Wedding Venues
If you want unlimited possibilities for your outdoor mountain wedding venue, consider getting married outside of a big cabin rental in the Pigeon Forge or Gatlinburg area. The décor, the seating arrangements and the use of your surroundings is completely up to you. If you want to make your entrance in a horse drawn carriage, put lights in the trees or have your guests sit on hay bales, that's your choice!
Cabin Rentals
---
Wedding Decor
Some brides choose their favorite setting and go from there, so if you want a true southern, Smoky Mountain wedding, don't hesitate to put those cowboy boots on, decorate with hay bales and mason jars and have your wedding the way you want. If you are a classic do-it-yourself-er, the PigeonForge.com blog contains many wonderful DIY ideas.
If you're in an area with a lot of surrounding trees make sure to take those into consideration, a lot of decorating can be done with a tree. Some brides string photos from branch to branch, some hang lanterns for when the sun goes down and others string twinkle lights to set the mood. Trees are a great way to utilize the great outdoors for a little decorating that will enhance your wedding style.
Be sure to think about your seating arrangements for the reception also. You may want your guests to be assigned to intimate tables of 6 or 8, or bigger tables of 12 to 15. Another unique way for seating is one long table where everyone is side by side, (of course if you have a really large wedding party, that table could go on forever!) but it makes for a really cute and unique way to make everyone feel as though they are at one table, which includes the bride and groom!