Whatever your dream wedding, you can choose from log chapels, a private ceremony in your log cabin, elegant Victorian chapels, picturesque mountaintop chapels, or charming storefront chapels to make your wedding the day of your dreams.
---
Wedding Chapels in Gatlinburg & Pigeon Forge
The atmosphere of a chapel ceremony with an ordained minister can provide a deeper, more serious ambiance for your wedding vows. For those couples who want to marry in a wedding chapel in the Smoky Mountains, there are many to choose from. There are wedding chapels in Gatlinburg & Pigeon Forge to accommodate many guestsm, as well as ones that offer a smaller space for an intimate crowd or just a couple looking to elope in the Smokies.
What Is A Wedding Chapel
Wedding chapels are venues to get married in the Smokies that aren't a formal church, legal court or outdoor venue. Chapels are a great option for keeping your wedding party and family comfortable in a climate-controlled environment and avoiding inclement weather. Chapels also typically have a dedicated staff on hand to execute chapel details like unity candles, special music & more that you may like.
Wedding Chapel Packages
Wedding chapels in Gatlinburg and Pigeon Forge offer a variety of packages to meet your needs. On the smaller-scale, many chapels have inexpensive ceremony packages for just the couple. If you are looking to elope and won't be bringing friends and family, these packages are a great choice. If you do have guests coming along for the special day, chapels will offer a variety of packages with extras like an allotted number of guests. Packages can also include photos, gown and tux rentals, ceremony videos, flowers, vow options and more.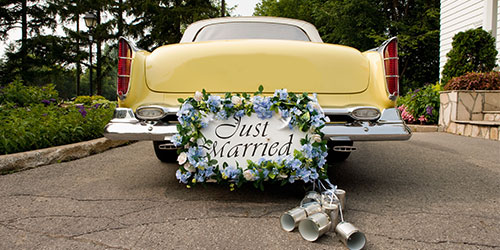 Drive Thru Chapels
Many visitors wonder about drive thru weddings in Pigeon Forge. Drive thru weddings aren't incredibly common here, but there are chapels that have this service available. For these ceremonies, a minister will meet you at your car and marry you while you remain seated in the vehicle. With these weddings, photography may be available as an added service. Otherwise, you can drive to many beautiful locations in the National Park for some great photos.
Wedding Receptions
If you would like the reception in the chapel so that your guests don't have to travel, make sure the chapel has a space to accommodate those guests and there is enough space for the caterer. If you are planning a reception in a different location, choose somewhere near your venue so your guests do not get lost. Consider local restaurants that offer private rooms for large groups,
Smoky Mountain Weddings
The Smoky Mountains are beautiful and the perfect place for a wedding. Whether you're looking for a destination wedding in the Smokies, or just a small gathering by your favorite waterfall, the Smoky Mountains hold a special place in a lot of people's hearts. The outdoor scenery of the Smoky Mountains is stunningly beautiful.
Wedding Venues In The Park
Vacationers are amazed to find every possible option when it comes to Smoky Mountain wedding venues, including chapels. The Smoky Mountain region offers an abundance of chapel styles, with offerings that are sure to delight all those who participate and attend.