One of our favorite ways to see the Smoky Mountains is by zipline. Below are the top 3 reasons why you should zipline Pigeon Forge on your next Smoky Mountain vacation
Zipline Pigeon Forge: Views
A zipline adventure offers riders the ability to soar above, through and below the lush canopy of trees and vegetation in the Smoky Mountains. Some of the views that you will see can only be seen when you are in the middle of a zipline. Want a panoramic view of Mount LeConte? Head over to Legacy Mountain Premier Ziplines. A zipline adventure in Pigeon Forge lets visitors get a different perspective of the beauty of the Smokies.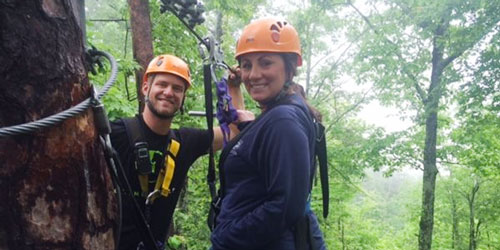 Anyone Can Zipline Pigeon Forge
Like any activity there are some restrictions. At Adventure Park at Five Oaks, guests must be at least 3 years of age (their little guests will ride tandem with one of their experienced guides). The zip line is able to carry passengers who are between the weight of 75 and 275. It is a requested that participants in a zip lining tour are in average health with no heart or back problems that might result in a worsening health issue. Be sure to check with the different outfitters as age and weight restrictions may vary.
Ziplines Are Good For The Heart
Adventure is good for the heart… and soul! There are many ways to get your blood pumping but none like the experience of the top-rated Mountaintop Zipline Tour at CLIMB Works Smoky Mountains. To ease your anxiety you can go with a friend on their side-by-side zipline with constant 360° mountain views.
Pigeon Forge Zip Lines
TIP: When making reservations at any of our outstanding zipline companies in Pigeon Forge, be sure to check out what other adventures they offer. For example, you can reserve a rafting and zipline package at Rafting in the Smokies and get the best of both air and water! Look for ropes courses, rafting, tubing, ATV tours and more!