You might have seen fireflies flickering their lights after dark before, but have you ever seen them synchronize with each other? There are at least 19 different species of fireflies that live within the Great Smoky Mountains National Park, and synchronous fireflies are one of them. These are one of the rare species in the world known to synchronize their flashing patterns.
Synchronous Fireflies: Dates For 2023:
Firefly viewing dates: June 4 - June 11, 2023
April 28, 2023: Lottery for vehicle passes opens at 10:00 am
May 1, 2023: Lottery for vehicle passes closes at 8:00 pm
May 11, 2023: All lottery applicants will be notified if their application was successful/unsuccessful
Enter The Lottery
These dates are estimated by the National Park Service and are subject to change. Find more information at NPS.gov and enter the lottery when it opens at recreation.gov. This year, there will be a $1 charge to enter the lottery. If you are chosen in the lottery, there will be a $24 charge per car. Please note: The lottery will not open until April 28. At this time, the recreation.gov site will update with an entry form and further details.
---
Why Do the Fireflies Synchronize?
No one really knows why the fireflies flash together. One theory is that males are competing and they all want to be the first to flash. Or, another theory is that if the males all flash at once they will have a better chance of being noticed, so that the females can make comparisons between them.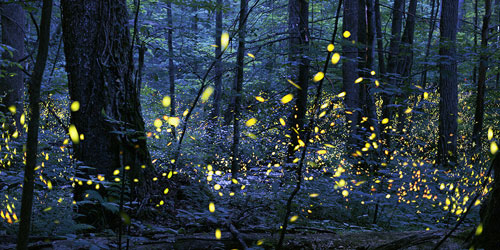 Experiencing The Phenomenon
During this peak firefly display period, you will have a chance to see this amazing display of natural beauty. Great Smoky Mountains National Park organizes viewing event. A total of 800 vehicle passes will be awarded (100 per night) with each pass allowing one vehicle to park near the Elkmont viewing area. A shuttle service will not be necessary or provided due to the close proximity of parking to the viewing area. This is where a huge population of synchronous fireflies can be found.
Parking Information
Vehicles will be allowed to park near the viewing area at the Jakes Creek Trailhead parking lot, the Appalachian Clubhouse parking lot and along the exit roadway. Reminder: Each parking pass is valid for one car with up to 7 people inside. Parking passes are only valid on the specific date assigned. You must arrive before 8:15 to attend the viewing.
In order to use the parking pass the lottery winner must be within the vehicle and must present their photo identification before the vehicle will be admitted to the parking area. Only one application can be completed per household. This is a fair way of giving everyone a chance to obtain a pass for this very high demand event.