Get up close and personal with stingrays, make friends with a penguin and even spend the night surrounded by shark-infested waters in one of the many unique experiences at Ripley's Aquarium of the Smokies – home to more than 10,000 aquatic creatures.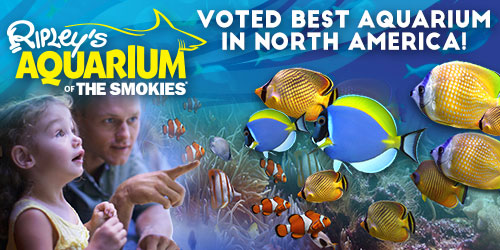 Explore the World All in One Place
Ripley's Aquarium Gatlinburg has many different biome exhibits for you to explore. Learn all about the complex ecosystems of coral reefs along with the colorful anemones, clownfish, tangs, triggerfish and butterfly fish that inhabit them. Migrate over to the gallery of the seas exhibit to see more of what nature puts on display.
Ripley's Aquarium
10,000 Aquatic Creatures
Beautiful octopuses, elegant lionfish, gangly Japanese spider crabs and dazzling cuttlefish that put on a light show all live in this neighborhood.You can also spot funny-eyed flounders and weedy scorpionfish in the ocean realm exhibit, along with spotted garden eel colonies that drift like beautiful ocean floor plants peeking out from their burrows.
Just a short walk away you will find a tropical rainforest unfold before your eyes. See deadly piranhas and massive arapaima fish that can grow up to 10 feet and 400 pounds. Also in the rainforest area are some of the brightest creatures around: poison dart frogs, whose toxic secretions can be potent enough to drop a grown man in his tracks.
Spend a Night in Shark Lagoon
Our tunnel aquarium houses our ferocious-looking sharks, including the snaggle-toothed Sandtiger Shark and his more docile cousin, the nurse shark. Also possessing a voracious appetite, tarpon fish flit about the tank looking to devour their next meal. Their insatiable hunger is so notorious that they can grow up to seven feet long.
Sleepover
Another resident in this neighborhood are the moray eels with their wizened grins full of sharp teeth. They can often be found lurking in holes for unsuspecting prey to pass by, or they can be swimming about while opening and closing their jaws to pump oxygen over their gills. You know what they say: When an eel swims on by with a hungry glint in his eye, that's a moray!
A more peaceful member of this cohort is the massive green sea turtles. While their powerful beaks look like they could snap up prey, their diet is strictly vegetarian. You can become well-acquainted with all of these folks by opting for the aquarium's fun and adventurous sleepover package. It comes complete with a dive show, scavenger hunt and a night spent "sleeping with the fishes" in the most literal sense possible.
Make New Feathered Friends
In addition to their sleepover package, Ripley's also offers personal encounters with some of nature's quirkiest fellows: penguins. They will be sure to waddle into your heart with their charming personalities, and some are even willing to show off their painting skills to give you a colorful, one-of-a-kind souvenir to take home.
Penguin Cam
Another popular package is their swimming with stingrays experience, where you can wade in the water with surprisingly well-mannered predators that hunt in the shallows. Ripley's new SWARM exhibit is also likely to fascinate you with its stunning displays of animals that tend to always bring along more than a few of their friends.
You can discover more about Ripley's Aquarium Gatlinburg as well as many other fascinating and fun places of interest in the Great Smoky Mountains in our comprehensive guide to the best attractions in Pigeon Forge.