The Great Smoky Mountains is home to one of the last wild trout habitats in the eastern United States. With over 2,115 miles of streams in its boundaries, the park offers a variety of angling experiences from remote, headwater trout streams to large, coolwater smallmouth bass streams. For a map of all park water as well as other information, stop by a visitor center and pick up your free copy. The volunteers in either center will be happy to point out ideal streams to fit your interests!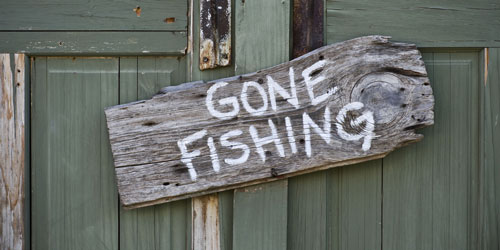 Smoky Mountain Fishing Spots
If you are looking for great fishing in the Smoky Mountains, look no further! Fishing is permitted year-round in the park, from 30 minutes before sunrise until 30 minutes after sunset. The park allows fishing in all streams. You must possess a valid fishing license or permit, but no trout stamp is required. Fishing permits are not available in the park, but can be purchased in nearby towns (Ace Hardware on Highway 321 in Gatlinburg is one of the closer options). Special permits are required to fish in Gatlinburg and Cherokee.
Herbert Holt Park
You will find Tennessee's only munipical trout farm right here in Gatlinburg at Herbert Holt Park. Rainbow trout reared at this facility are deposited into the West Prong of the Little Pigeon River every Thursday, so there is no fishing allowed on those days. The surrounding waters of the park are for children-only fishing. There is also a handicap accessible pier for children and handicapped persons of all ages.
Mynatt Park
Another great fishing spot for children only is a section of stream at Mynatt Park along LeConte Creek. You can find this fishing spot near the beginning of the Historic Motor Nature Trail extending from the GSMNP boundary, to about a quarter of a mile downstream from Mynatt Park. The park itself also includes a picnic area right by the water, making it a great place to come with family during the spring and summer.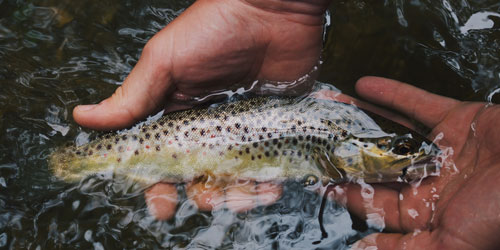 Little River: East Prong
One of the largest streams in the Great Smoky Mountains National Park is the East Prong of the Little River, which is also the heaviest fished stream in the park. It's very easily accessed from a paved road following the stream near the lower portion and all the way past Elkmont Campground, and it's a great spot for catching fish. You will find some of the biggest brown trout in the entire park in this stream, and plenty of rainbow trout.
---
Tennessee Fishing Laws
Tennessee law requires residents and nonresidents age 13 years and older to have a valid license. Residents age 65 and older may obtain a special license from the state. The state fishing license can be purchased online from the Tennessee Wildlife Resources Agency, or by calling 1-888-814-TWRA (8972). You will legally be able to fish as soon as your transaction is complete, and a permanent license will be mailed to you within 48 hours. For complete Tennessee fishing regulations, visit the TWRA License Information web page.
Nonresident Fishing License Fees For Tennessee Visitors
| | | |
| --- | --- | --- |
| 070 | Jr. Hunt/Fish (nonresidents ages 13-15) | $11.00 |
| 076 | Annual Fishing Permit (No Trout) | $50.00 |
| 077 | 3 Day Fishing Permit (No Trout) | $20.50 |
| 078 | 3 Day Fishing Permit (All Species) | $40.50 |
| 079 | 10 Day Fishing Permit (No Trout) | $30.50 |
| 080 | 10 Day Fishing Permit (All Species) | $61.50 |
| 081 | Annual Fishing Permit (All Species) | $99.00 |
Buy Fishing License
*Please note that the prices posted here are subject to change, visit the TWRA Fisheries Management Division page for more details and a complete price list, including resident license fees and children's license fees.
Guidelines
Always remember to be a clean fisherman by cleaning up any tangle of line or trash that you may find left on the ground. Be careful when standing or wading in streams due to the loss of body heat, which can lead to hypothermia. Rising water levels from sudden mountain storms occur quite frequently, so monitor water levels. Water currents are swifter than they appear and footing is treacherous on wet and moss covered rocks.
Daily possession limits are any combination of rainbow or brown trout, or smallmouth bass totaling five. You are allowed to catch up to 20 rockbass per day. A person must stop fishing once they have reached the daily possession limit.
The size limit for rainbow, small mouth, and brown trout is a minimum of 7 inches. Rockbass have no minimum requirements. Any trout or smallmouth bass caught that is less than the legal length must be returned to the water from which it was taken immediately.
Fishing lures, bait, and equipment all have restrictions. One hand-held rod, artificial flies or lures with single hook, and dropper flies may be used. Minnows, worms, corn, cheese, bread, salmon eggs, pork rinds, liquid scents, and natural baits found along the streams are prohibited.